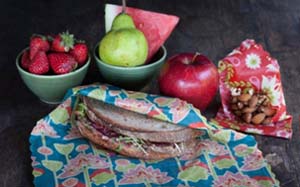 Australian Made and owned Honeybee wrap uses a Antibacterial blend of ingredients.We make the thickest long lasting wraps on the market .Honeybee wrap is an eco-friendly alternative to plastic wrap and a fantastic food preserver. By using a beeswax wrap you are helping to reduce the 8 million tons of plastic that enters our oceans each year!
Honeybee Wrap
originated in my family kitchen 6 years ago in the Northern Rivers near beautiful Byron Bay. Having a big family, I was always looking for greener alternative to preserve our food fresh without the use of plastic. That is until I started making and using Honeybee Wrap.
To this day you can still find our little studio in Mullumbimby! Our reusable wraps are 100% Australian made and manufactured.
In fact, our commitment to sustainability doesn't only stop at making an environmentally friendly alternative product but we give back to our community by employing locals and buying locally sourced ingredients. We also give away our by-product fabric waste which is recycled. And each year we help a number of schools and community projects by fundraising their green activities. If you have a green idea we would love to hear from you!
WHAT'S IN OUR WRAPS?
Our reusable food wraps are made with 100% organic cotton, natural Australian beeswax, organic coconut oil, tree resin and Australian jojoba oil.
One of the reason why our beeswax wraps are of the highest quality on the market is because we only use the best ingredients. Starting with 100% certified
organic cotton
(GOTS certified) with low impact dyes. This means that the cotton is grown without the use of chemicals and pesticides.
Did you know that cotton is the most widely grown crop in the world? Growing conventional cotton is also one of the most chemical-­intensive. Our reusable beeswax wraps are actually so green that when you are finished with them you can put them in your worm farm or compost bin!
ABOUT BEESWAX
Beeswax is a by-product of honey extraction which would be otherwise a waste. All the beeswax we use is locally sourced and has been harvested in a sustainable way. We know this because we have a close relationship with all our beeswax suppliers. Want to know more about beeswax? Check out our blogs:
How sustainable is beeswax
5 Things you can do to help the bees
Size : 30 x 26.5cm